James Jamerson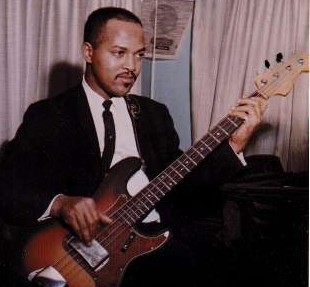 The most famous picture of James Jamerson
Listen to The Four Tops' "Bernadette." Now listen to it again. That's Jamerson with his "funk machine," a 1962 Fender P Bass. On Mary Wells' "My Guy," Jamerson played his upright. This guy re-defined the sound of bass. Everyone from Paul McCartney to Geddy Lee owes homage to the great James Jamerson!! They'll even tell you so.
Earl Van Dyke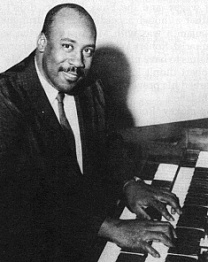 Earl Van Dyke at his piano
"Big Funk" helped define the sound of such great tunes as "My Guy," "Aint too Proud to Beg," and any of the Motown tunes with that Powerful "guerilla piano" sound. Check out "The Flick" on the soundtrack to "Standing in the Shoadows of Motown," it kicks butt!
Johnny Griffith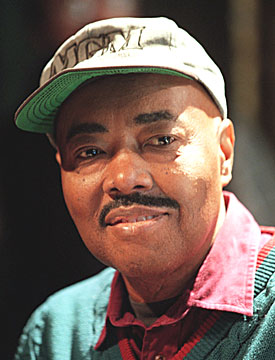 Johnny made it into the film, but died in Nov.'02
You can just tell by watching the movie that Johnny was a nice man. A classically trained musician, he joined Motown to earn a living. I love his work on Marvin's "Grapevine."
Robert White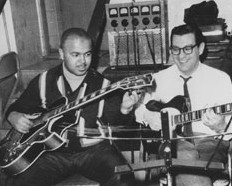 Robert plays with Joe Messina in the Snakepit.
"My Girl" starts off with a little bass, then Robert White comes in. Remember him whenever you hear that song. He's on "My Cherie Amour," and many others too. Watch for the part in the movie when Dr. Licks tells of his dinner with Robert. That's why we must never forget.
Richard "Pistol" Allen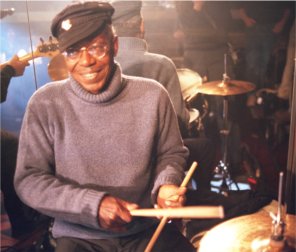 The great "Pistol" Allen
Pistol played on alot of my favorite tracks, "Bernadette," Heatwave," and many others. I work with a guitarist who a few years back, got to play with "Pistol," and he says he never met a nicer guy. Pistol was sick during the filming of the movie, but when I watch it he just cooks.
Benny "Papa Zita" Benjamin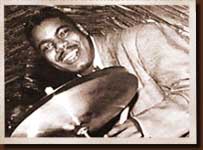 William "Benny" Benjamin in a photo from the film's archives.
"Papa Zita" is described as "the most loved musician at Motown." He began with the label in 1958, and helped define the "Motown drum-beat." Buddy's musical prowess will live on with recordings like "Shop Around," "Goin' to a Go-Go," and "Get Ready." His sticks were silenced in 1968 after years of substance abuse.

"Bongo" Eddie
Eddie "Bongo" Brown jammin on the instrument he was born to play!
"Bongo" started out as a valet, but became a very important part of the "MOTOWN SOUND." He had a great sense of humor, and awesome rythm. Just listen to "What's Going On" or "Cloud Nine" to hear what I mean!