Nothing I can explain on this website will prepare you for the incredible story of The Funk Brothers. You must rent or buy "Standing in the Shadows of Motown." I saw it 15 times in the theater, and love the DVD too!
Pick up the soundtrack too!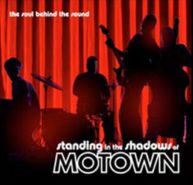 It's not safe to drive around watching the DVD, so get yourself the soundtrack and crank it up in your car...Featured vocalists include Joan Osborne, Chaka Khan, Bootsie Collins, Meshell Ndegeocello, Ben Harper, and Gerald Levert.
You and I know, the real stars are the musicians...THE FUNK BROTHERS!