Many of the great Funk Brothers have passed on. These are the Funks still playing:
Jack Ashford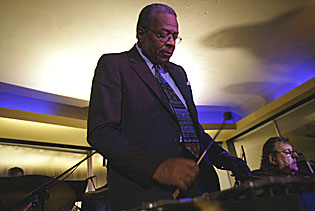 Jack Ashford in a photo by Chip Somodevilla, DFP
Mr. Ashford is truly a gentleman. I had the pleasure of meeting him after the show on April 18th, and again on August 21st. He's fascinating to talk to, loves children, and is of course, extremely talented. His instruments include the vibes, tambourine, marimbas, wood block, foot stomps, and more!
Joe Messina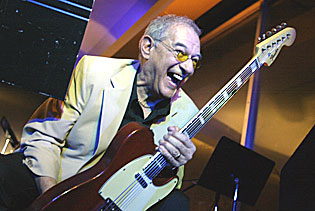 Joe Messina in a photo by Chip Somodevilla, DFP
You can really see the joy of playing this music when you watch Joe Messina on stage. Here's a guy who is loving what he's doing. It's a shame that he let that guitar sit for thirty years after the end of Motown's Detroit era before picking it back up. Joe Messina is a great great musician.
Eddie Willis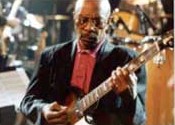 Eddie Willis in a picture from "Standing in The Shadows of Motown"
Eddie Willis may walk a little slower now, but his playing is still top notch. Eddie is the great guitarist you hear on alot of early Mary Wells and Marvelettes tunes. He was with the Funk Brothers for the entire Detroit era, and stills kicks in the funk today!
Joe Hunter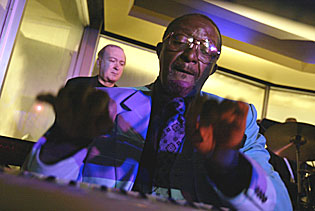 "Ivory" Joe Hunter in a photo by Chip Somodevilla, DFP
Joe Hunter joined the fledgling Motown in 1958 and gave a "down-home" feel to the early recordings made for the label. He's awesome to listen to, and knows how to boogie, both on his "88s" and when he gets up to dance.
Uriel Jones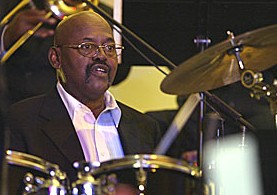 Uriel Jones in a photo by Chip Somodevilla, DFP
Uriel Jones is one funky drummer. This guy slammed on tunes like "Ain't too Proud to Beg," "Cloud Nine," and my son's favorite, "Ain't No Mountain High Enough." He's still slammin', and was awesome each time I saw The Funk Brothers live!!!
Bob Babbit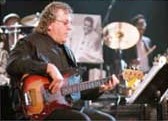 Babbit in a photo from the film.
Babbit had played with Stevie Wonder and freelanced around Detroit before being brought in to Motown in '67. He had some serious shoes to fill, but like Jack Ashford told me when I talked to him, Babbit knew James Jamerson. It wasn't like he was stepping in after a guy he never met. Babbit kept up a busy studio career even after Motown, working in New York, Philly, and Nashville. Babbit Rocks!!
Honorary Mention: Dennis Coffey & Melvin "Wah Wah" Watson.